Info@saintlukeshospitals.com
Major Medical Insurance is a plan tailored specifically for long-term visitors to Los Cabos, Mexico
Why you need medical insurance in Mexico:
An accident or illness when traveling in Mexico can be life-altering because we are often not prepared for a medical emergency when on vacation.
Often the primary insurance we have back home will not cover us in Mexico, leaving us with extremely high medical expenses to pay.
Why use the Atlas Insurance plans:
Atlas Insurance has extremely affordable international medical insurance plans for travelers coming to Mexico on short vacations, and major medical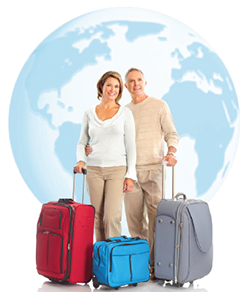 insurance plan for visitors staying in Los Cabos for extended periods. The policy can be for a period from 5 days up to 12 months and may be extended annually for an additional 2 years.
HCC Medical Insurance Services, one of the leading medical insurers worldwide, offer the Atlas Travel Insurance Plans, which in conjunction with a health care program offered by Saint Luke's Hospital, provide total protection against the high cost of medical treatment in Los Cabos, with all the benefits of travel insurance at a low premium.
Key benefits of Policy:
• Guaranteed acceptance, no medical underwriting for eligible individuals.
• Overall maximum coverage from $50,000 up to $1,000,000*
• Emergency medical evacuation with $500,000 coverage.
• 100% coverage for accidents and injuries after any deductible, up to overall limit of the policy.
• Up to $100,000 limit for eligible medical expenses for the acute onset of a pre-existing condition.
• Sports coverage at no additional charge.
• Online enrollment and immediate fulfillment as soon as application is processed.
• Policy underwritten by Lloyd's of London.
How the Policy Works
The policy has a deductible from zero up to $2500, with maximum coverage from $50,000 up to $1,000,000*. On the higher deductible plans, out-of-pocket expenses are partially covered up to the deductible by Saint Luke's Hospital and include ambulance service, routine doctor visits, check-ups, general consultations and other minor health care expenses whilst staying in Los Cabos.
To review the complete Schedule of Benefits and to receive a free online quotation within minutes, simply download the online brochure to see why this policy is right for you. Or contact the agent in Los Cabos for more information.