Medical Care Card
Executive Member
You'll Love the Way We Care for You
Saint Luke's Hospital offers the Medical Care Card to the local residents and employees
at hotels, participating Enterprises and Residential Communities in Los Cabos.
The Medical Care Card offers the patient the following benefits:
• Unlimited free general consultations and emergency tests
• 24/7 emergency service
• Special discounts and other benefits when using the services of Saint Luke's Hospital for day to day issues, tests and emergency pre-hospital medical examinations.
• Free ambulance service to one of our Medical Centers
​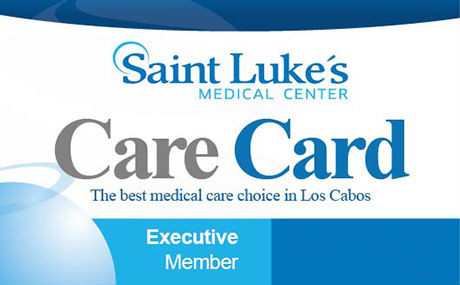 Get your Medical Care Card now and receive a Medical Check-up at no cost.
Check-up includes free screening tests for total cholesterol levels, blood pressure, triglycerides and glucose levels.
You can receive these tests when you collect your Medical Care Card from one of our Medical Centers
To validate and receive your annual Medical Care Cards membership visit one of our Medical Centers in San Jose del Cabo or Cabo San Lucas. Registration fee is only $100 pesos for 1 year. This offer is for a limited period only.
For further information, complete the 'Ask a Question' form on this page