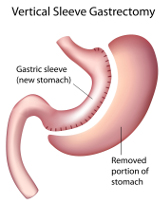 Gastric sleeve surgery (sleeve gastrectomy), is one of the newer forms of bariatric surgery. This surgery is also known as vertical sleeve gastrectomy, or laparoscopic sleeve gastrectomy.
With this surgical weight-loss procedure about 75-85 percent of the stomach is removed so that it takes the shape of a sleeve. This is done through laparoscopy, by making small incisions in the abdomen to remove part of the stomach and then stapling the open edges of the stomach closed. This minimally invasive procedure requires just a short stay at the hospital. In some cases gastric sleeve surgery can be followed at a later date by a gastric bypass surgery or duodenal switch surgery after a person has lost a significant amount of weight. The timing of the second surgery varies according to the degree of weight loss and usually occurs within twelve months after the initial surgery.
The reduced stomach size will dramatically reduce the amount of food eaten, without causing hunger. Appetite is controlled by the restrictive effects of a smaller stomach, giving a feeling of fullness. Candidates for gastric sleeve surgery should be at least 45kg overweight which is equivalent to having a Body Mass Index (BMI) of 40. People with a BMI of 35 may also be candidates for weight loss surgery if they have obesity-related illnesses such as high blood pressure, diabetes, high cholesterol or other weight related disorders.
The specialists at Saint Luke's Weight Loss Center use advanced state of the art equipment and the latest technology to provide high class bariatric surgery at the most affordable prices. Gastric sleeve surgery at Saint Luke's is less than half what it costs in the United States.
After Gastric Sleeve Surgery
Gastric sleeve surgery is a non-reversible procedure, performed laparoscopically under general anesthesia and the surgery takes about one to two hours. After surgery the patient is given pain relievers and closely monitored in the hospital during recovery. The stay in the hospital is normally for 1 to 2 days and return to normal activity with two to three weeks. Physical activity should be limited during this time.
Risks
Gastric sleeve surgery has risks which include:
• Blood clots in the legs
• Serious infection or bleeding
• Digestive problems
• Sleeve leakage and intestinal obstruction
• Breathing problems
Risks can be minimized by following the surgeon's instructions before and after surgery. After surgery, eating habits need to be adjusted to the smaller stomach capacity. In the first two weeks on a liquid-only diet, followed by 2 weeks of semi-solid foods, and working up to solid foods about a month after surgery.
This information should be used only as a guide to your medical procedure. All specifics will be discussed with the surgeon at your consultation. For more information about our package for gastric sleeve surgery at Saint Luke's, contact us by using the "Ask a Question" form on this page.