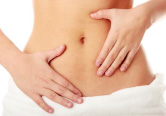 Abdominoplasty, or tummy tuck, is a cosmetic procedure which involves the removal of excess fat and skin of the middle and lower abdomen to tighten the muscles and fascia of the abdominal wall. The procedure is recommended for patients with loose or sagging skin following substantial weight loss or pregnancy. It is not a weight loss treatment, rather it for patients with excess sagging skin and fat that want a flatter, tighter and a more youthful stomach.
Abdominoplasty may be used with other procedures, such as a breast lift, and depending on the extent of the surgery, a complete abdominoplasty can take from 1 to 5 hours.
Dr. Marco Marroquin, a well-respected cosmetic and reconstructive surgeon specializes in tummy tuck procedures at Saint Luke's Hospital, and uses the latest and most advanced techniques and technology to provide high quality results at the most affordable prices. Costs are less than 50% of what you would pay in the United States.
Procedure
Abdominoplasty usually takes 2 to 3 hours, under a general anesthesia and a hospital stay of 2 to 3 days.
The surgeon makes a linear incision extending from hipbone to hipbone just above the pubic area, and separates skin and fat from the rest of the abdominal wall, and then removes excess fat and skin. Liposuction may be used to remove fat deposits. Muscles are tightened by pulling them close together and stitching into their new position. The incision is then closed with stitches, dressings applied, and a temporary tube may be inserted to drain excess fluid from the surgical site. Recovery can take from one to four weeks and any strenuous activity should be avoided during this period.
Risks & complications
Abdominoplasty surgery carries some risk and you should be aware of the medical risks before you consent to surgery. The surgeon will discuss these risks with you at your consultation.
Risks vary from patient to patient depending on several factors. The following are possible risks associated with this type of surgery.
• Bleeding and blood clot formation.
• Accumulation of fluid under the skin.
• Infections that usually can be treated with antibiotics.
• Poor healing of the incision.
• Skin loss
• Numbness or change in skin sensitivity.
• Visible scar.
• Slight pain, which may be persistent.
• Risks associated with general anesthesia and the possibility of revision surgery.
Alternatives
Your surgeon may consider treatments other than the Abdominoplasty procedure, such as liposuction to remove excess abdominal fat. These alternative treatments should be discussed with the surgeon at your consultation.
This information should be used only as a guide to your medical procedure. All specifics will be discussed with the surgeon at your consultation. For more information about our package for tummy tuck at Saint Luke's, contact us by using the "Ask a Question" form on this page.